Executive Service (Valet Service)

In 1996, we introduced our "Executive Service" to busy Senior Executive Officers. This service is a welcome for many CEOs as it provides an option for people whose for work, family or lifestyle reasons need to re-establish their home environment quickly with minimal involvement. If you opt for our Executive Services, books are neatly arranged onto bookshelves, crystal, silverware, and family heirlooms are placed into drawers & wall units and clothing hung in the wardrobes. Items are placed into cupboards, including glassware, crockery, cutlery, kitchen items and personal items.

Home cleaning

Full cleaning of your client's new home prior to arrival/moving in. This service is tailored to your client's requirement and can include window cleaning or any other services that are required.

Handyman service

Interport Executive Movers' handyman service is available to assist your client in the hanging of picture, mirror, ceiling fan, kitchen or bathroom accessories and assembly of shelving.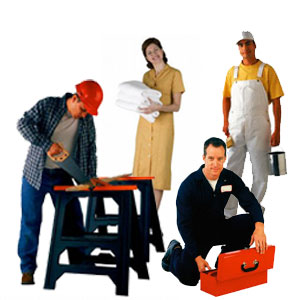 Maid service

A domestic helper can be arranged prior to arrival/moving in.
Sensitive Equipments / Items

Specialists can be arranged to perform the following services:
• Grand piano delivery, set up and tuning
• Delivery of heavy safes
• Waterbed set-up
• Grandfather clock set-up
• Hoisting of large items thru windows
• Plasma TV unpacking & installation
• Computer set-up
Trade Services

Electricians, plumbers, carpenters and etc can be arranged.
Air-conditioned / climate controlled storage facilities
We purchased our own warehouse and we can provide both normal and air-conditioned storage at any length of time of storage. Our facilities cater strictly for both long and short term storage of household goods and furniture and thus is kept in clean, safe conditions at all times with strict surveillance.