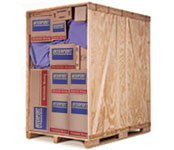 If you are moving to a smaller property or if there is a need to move out of your current home before your new home is ready, Interport can provide you secured storage either at origin or destination.
All storage shipments are carefully packed and loaded into special storage containers, sealed and stored in our facility.
Our storage container and warehouse are clean, dry and secure. You can be rest assured that your valued belongings will be kept safely in the best condition, until you next require them.

Interport storage facilities features:
• Monitored CCTV system to give the added security, ensuring your belongings are safely kept.

• Interport's warehouse is 25,000 sq ft, is well-equipped for international moving and long-term storage.

• Palletised & container storage to eliminate the risk of double handling or items being mixed up with other consignment.

• Pest control management (termite, cockroach, ant, fly, mosquito, rodent, etc) to ensure a clean pest environment.

• Computerised consignment control.