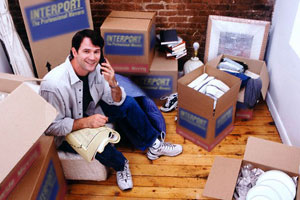 Your Interport supervisor and his crew will arrive at the appointed time. The supervisor will introduce himself and his team to you. He will request to walk with you room by room and plan your packing process in the most efficient way. After that, he will verify your instructions and confirm any special packing requirements you have agreed with your Interport consultant. Meanwhile, the crew will be bringing in the packing materials to your residence.
Interport's crew will pack everything for you. The crew supervisor will place a coloured label on each item our crew packs. The labels include your name, job reference number, origin, destination and item number. We use difference colours for different clients to prevent any mix-up. The crew supervisor will record all packed items on the inventory lists and a copy of this list will be given to you for your records.
Whilst we prefer our crew to pack everything, we are flexible. If you choose to pack some personal items, remember to leave the boxes open so that our crew supervisor can inspect them. If the boxes are not inspected and sealed by the supervisor, the inventory will be listed as PBO (packed by owner) which limits claim settlement.
Interport can provide special customized crating for very specialized items such as fine arts and antiques or items which need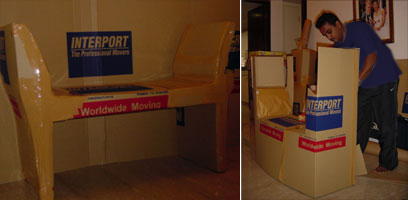 special crating. Our own case-making section can cater for any such pieces with ease, thus making shipment of most fragile items possible with complete confidence.
Be sure your dishwasher, freezer, refrigerator, washer and dryer are empty.

Unplug and thoroughly clean out your refrigerator and freezer. Prop open the doors so that they can begin to dry out. It is important to give your refrigerator at least 24 hours to dry so that molds and odors do not form.

Remove all bed linens from beds. Mattresses will be placed in special protective cartons.

Leave glassware and kitchen items in cabinets and cupboards. It is easier for the packers to remove them as they are packing.

When the packers first arrive, point out any items that will require special handling.
Be sure to set aside items that you do not want the movers to pack. For example:
a) Important financial or real estate documents that you will need access to in order to
complete the sale of your old home or the purchase of your new home.
b) Items you may need for your family's travel - luggage, clothing, toiletries, airline tickets, travelers checks, maps, etc.
c) Valuables, or any other items you will transport personally.
d) Games, a special toy or other items to make travel with the kids more comfortable.

If you wish to place your goods in storage, you may need some items from the storage readily available to you upon your arrival, you would like to label "Last Load" prior to the crew arrival. Set aside and show the crew items that should be loaded last and unloaded first at destination.
Interport recommends that you be present throughout the duration of the packing and loading. If you prefer to live in your residence, we suggest that you set aside minimum requirements so that we can try and finish the pack job ahead of schedule. In addition, certain housing estate managements may have rigid rules to comply.