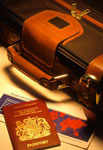 Moving can be one of the most stressful events in our lives. However, by getting organized and planning ahead, you can prepare your family for a smooth move.
If you are planning to stay in your residence throughout the duration of the packing, you may wish to set aside certain items which you need to pack last.
Remember there are peak and off-peak periods in the moving seasons. The last week of the month in May, June, July and August are the busiest weeks of the year. If you must move during these weeks, contact Interport well in advance and reserve your move day. It's not unusual for these weeks to be booked up to 4 weeks in advance. During that period of time, the demand for moving equipments, vans, and personnel are heavy.
Here are some tips:
Use the Interport's stickers provided to indicate which items to be moved by air, by sea, put in storage, or not to remove. We also provide Fragile, Last load stickers to help better organized.

There has never been a better time to clean out closets, drawers and attics, and discard those things you no longer need. Charitable organizations will be glad to have any items in good condition. However, if you are planning to have a garage sale, it is best to do so about 2-3 weeks prior the moving date, which will help to avoid any confusion and mix up.

Check the voltage of all electrical appliances that you would like to ship to your new home and then check if they could work. Countries around the world have different voltage system. Some may need a transformer while others may not work.

Complete any last minute purchases. Be sure to ask the vendors to deliver all items ordered to your home at least one week before packing date so that any mistake can be rectified without having to miss the shipping dates.

Collect all those items that you have loaned and return all items that you have borrowed. You may wish to get rid of flammables (ie. paint, petrol, candles, bottled gas from gas grills or campers, cleaning fluids, etc).

Begin to reduce your supply of staples and frozen foods. Do not include any canned food or food of any kind, as there are strict restrictions imposed by many countries around the world.

If you can't move straight into your new home, or you find yourself with too many belongings, please let Interport keep them safe for you. Before the packers come, please ask for coloured stickers to separate what goes into storage and what needs to be delivered rightaway. This prior arrangement and planning can save a lot of rummaging around at a time when you least need it.

Having accumulated your belongings over a period of years, they now represent a considerable investment. Thus, it is vitally important to have an accurate idea of what you own and how much it is actually worth. Prepare an itemized valued inventory for your insurance. If you need advice or assistance, please speak to your Interport consultant.