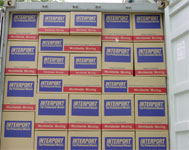 Poor packing is the most common cause of breakage during a move. Transporting fragile, delicate items safely involves a lot more than simply stuffing them in boxes. You are assured of expert packing from Interport.
Interport offers full packing materials and traditional skills to ensure the safest possible journey for your valued possessions.
We use the right cartons for different items, the right packing materials to cushion and protect the contents, and the right packing methods to assure a safe trip. We even use customized wooden crates for things like crystal chandeliers, pool table slates and antiques. When you entrust your whole move to Interport, you save time you probably can't spare, save worries you most likely don't need, and save costs you didn't expect.
Packing for overseas moving is a specialist skill and we have many years of experience and professional staff who will provide this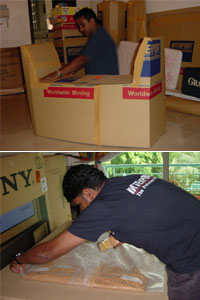 service to you.
Interport takes pride in packing your items. Take a few minutes to see how Interport will handle the following items.
Fine China & Sterling Silver
Fine china, sterling silver, porcelain figurines – Interport protects your family heirlooms for yet another generation to admire and to treasure.
Crystal & Stemware
Chinaware and crystal are individually wrapped and packed using proven techniques — including plates standing on end and stemware in individual, corrugated cylinders. Everything's snug and safe inside.
Home Office Equipment
We treat home-office equipment (PCs, monitors, printers, answering machines, fax machines and such) like your business depends on it.
Clothing & Draperies
Dustproof, reinforced wardrobe cartons keep clothing and draperies neat and clean, so they're ready to use right away when you arrive at your new home.
Mirrors & Glass-Front Pictures
Reinforced, telescoping cartons offer maximum protection for mirrors and glass-front pictures.
Antiques
Custom-built wooden crates and protective packing safeguard antique tables, marble table tops, crystal chandeliers, fragile vases and other priceless possessions.
Entertainment Electronics
The preferred way to move electronic components is in their original cartons with the original packing materials. You can do this yourself, if you like. If you don't have the cartons, Interport can handle every piece of electronic equipment you may own.
Items We Can't Move
We can't accept aerosols because they might leak, or even explode, in transit. Other non-shippable items include caustic drain

cleaners and flammables such as gasoline, charcoal starter, paint thinner and bottled gas.
Packing Yourself
Not everything requires professional packing to survive a move. You and a helper or two may choose to handle towels, bedding, books and the like. Should you choose to do so, please discuss with Interport consultant and we can arrange to have the cartons delivered to you in advance.