The Right Choice - Over 30 years
of Worldwide Moving Experience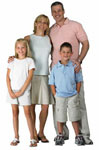 Welcome to our International Moving Guide - to an Interport Executive Move. You can rest assure that you will receive the benefits of Interport Executive Movers' unmatched experience from literally
thousands of successful international moves since 1974.
At Interport, we offer you the benefits of over 30 years of international experience. After being in the business for over 30 years and travelling widely, we can assure you that the key to any successful move is meticulous planning. A well-organized and planned move can help you avoid some of the possible problems, which may occur. It certainly makes all the difference prior your move.
Based on our many years of experience, we have prepared this International Moving Guide to help you prepare and plan for your door-to-door move. The International Moving Guide will take you through the entire moving process and explains what to expect during the relocation. We also include useful information to make your move as smooth as possible.
We hope you will find our International Moving Guide useful and should you need further information or assistance, please feel free to contact us. For pre-move survey, please call us at (65) 62642622 or click request for a survey here.