When we say that your moving is something that you don't need to worry about, we would like you to understand why. After being in the overseas moving business for 30 years and moving thousand of families across the globe, there's plenty we can tell you about to make your next international as easy as 123.
We want to help you organise, and this is a good place to begin. This website outlines the various steps to help you plan and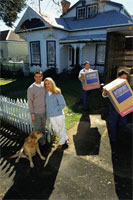 prepare for your door to door move. We recognise every family is different and we have identified the various stages to make moving easy. We explain to you what to expect during the move, what you need to do to get organized and what we will do for you from start to finish. In the process, we also included useful information, links, customs forms, insurance, checklist that aims to make your move as easy as 123. This website contains much of that advice to help you in your preparations for the big day.
Whether you are relocating for the first time or the tenth, it is important to be aware of all aspects of your move to ensure it is completed successfully. A well organized and planned move can help you to avoid some of the possible problems which may occur. It does make a lot of difference.
We assured you that the key to any successful, stress free move is meticulous planning. Interport Executive Movers will ensure each aspect of your move is tailored exactly to your requirements. We have been making overseas moving as easy as 123 since 1974. We believe we will be able to provide some very useful suggestions based on our own experience. At Interport, we will strive to give you all the personal care and attention you need to make your move a success.